The sunshine is back and so is Rugged Coast Lime Gose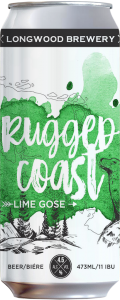 "Protect what you love" – Jacques CousteauF
Featuring Vancouver Island Sea Salt alongside fresh-squeezed lime, our gose is grounded in place and craftsmanship, inspired by the rugged coast and our desire to protect it.
Rugged Coast Research Society is a Vancouver Island based society on a mission to understand humankind's impact on BC's west coast and help to restore and protect it.
**.25 cents form every can sold will be donated to Rugged Coast Society**
Available at the Brewery Tasting Room on Boxwood Road and selection liquor stores!