Nestled in the heart of Vancouver Island, this unique brewery has partnered with local farmers to grow and malt quality barley and hops. Introducing the "Terroir of Beer"… an Obsessively Local Product. Started in our kitchen, we are a small family brewery where everyone is welcome!
Named one of "the most local of local breweries and beers" by The Tyee Magazine. #100MileBeer
We have a picnic patio (weather permitting) with more seating than last year! Dogs are welcome on the patio and feel free to bring snacks as we do not offer food service.
Effective the week of Oct 4th – Fall / winter tasting room hours:
Sunday to Wednesday – Closed
Thursday and Friday – 3 PM to 6 PM
Saturday – 12PM to 4PM
Brewery Operations  – Open Monday to Friday 9AM to 5PM
Indoor Seating Change
With the size of our tasting room, we currently do not have any indoor seating but can send you home with your favourite Longwood beers.
We also are offering a home delivery service or curbside pick up if that's easier…see online link on main web page or https://delivery.longwoodbeer.com
LongwoodStock 2021 Postponed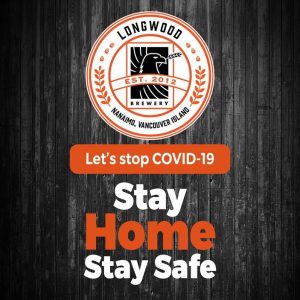 Music & craft beer fans,
We are postponing this year's edition of Longwoodstock and hope to be back strong in 2022! We remain dedicated to producing and hosting this festival. We appreciate all of your support and look forward to putting all of our energy into planning an amazing festival next year.
The Longwood Line Up
CURRENT SEASONAL RELEASES
Named one of "the most local of local breweries and beers in BC"
by The Tyee Magazine Dec 18/20 feature.
TASTING ROOM * GROWLER BAR * PICNIC PATIO
TASTING ROOM * GROWLER BAR * PICNIC PATIO
We put the GRRRRR in growler!
It doesn't matter if you are a first-timer or one of our regulars, feel free to pull up a stool and sample the Longwood Line Up. Easily accessible, we are located just off the Nanaimo Parkway. Our friendly and amazing staff will impress you with their vast knowledge about Longwood's recipes and will definitely help you find your perfect beer.
"Grown and brewed on Vancouver Island" – Longwood is proud to support local farmers by using hops, barley and other ingredients grown all over the Island. In fact, over 50% of of our barley comes from Central Vancouver Island and the majority of our hops come from Vancouver Island and the Chilliwack Valley.
This is a place for fun, beer, and a little bit of business.
We are an "Obsessively Local Brewery"!
Wanna Tap Us?(WE KNOW IT'S HARD TO RESIST)
We would be tickled pink to be the newest product on your shelf or on your bar.
Please contact the brewery at 250-591-2739 for more information.
There are currently no upcoming events