It's that time of year….Full Patch Pumpkin Saison is back!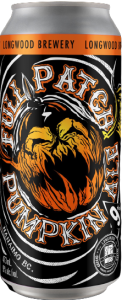 This seasonal, Belgian Style Saison is not for the faint of heart. Born in a pumpkin patch and raised in the brewery, this 9% bad boy is not your grandma's pumpkin pie. Slaughtered pumpkins and a whole lotta spice were boiled in a cauldron of barley, hops and anything else we could find lying around.
Available at select liquor stores!