Nestled in the heart of Vancouver Island, this unique brewery has partnered with local farmers to grow and malt quality barley and hops. Introducing the "Terroir of Beer"… an Obsessively Local Product.
Started in our kitchen, we are a small family brewery where everyone is welcome!
NEW TODAY…May 20th, 2020
Although our tasting room is currently closed, we are now offering "Home Delivery Service"….click the "Delivery" link above to place your order!
We are working at preparing the brewery to re-open soon….stay tuned for more information!
LongwoodStock 2020 Postponed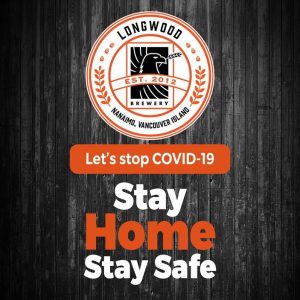 Music & craft beer fans,
In recognizing BC's public health projections that large gatherings should be avoided for the foreseeable future, we are postponing this year's edition of Longwoodstock. We remain dedicated to producing and hosting this festival when it is safe to do so. We appreciate all of your support and look forward to putting all of our energy into planning an amazing festival—hopefully in 2021. In the meantime, please consider ways in which you can support musicians, arts organizations, craft breweries, and local food providers during this time—as well as front-line and essential workers in your community.
Stay safe & stay healthy!
authentically brewed beer for any taste.
find your favourite today.
TASTING ROOM * GROWLER BAR * PICNIC PATIO
TASTING ROOM * GROWLER BAR * PICNIC PATIO
Come in for a visit and check out the newly renovated Tasting Room!
We put the GRRRRR in growler!
It doesn't matter if you are a first-timer or one of our regulars, feel free to pull up a stool and sample the Longwood Line Up. Easily accessible, we are located just off the Nanaimo Parkway. Our friendly and amazing staff will impress you with their vast knowledge about Longwood's recipes and will definitely help you find your perfect beer.
"Grown and brewed on Vancouver Island" – Longwood is proud to support local farmers by using hops, barley and other ingredients grown all over the Island. In fact, 50% of of our barley comes from Central Vancouver Island and the majority of our hops come from within 20km of the brewery.
This is a place for fun, beer, and a little bit of business.
We are an "Obsessively Local Brewery"!
P.S. Ask to meet the one and only brewery dog…."Milo"!
Wanna Tap Us?(WE KNOW IT'S HARD TO RESIST)
We would be tickled pink to be the newest product on your shelf or on your bar.
Please contact the brewery at 250-591-2739 for more information.
There are currently no upcoming events