Nestled in the heart of Vancouver Island, this unique brewery has partnered with local farmers to grow and malt quality barley and hops. Introducing the "Terroir of Beer"… an Obsessively Local Product. Started in our kitchen, we are a small family brewery where everyone is welcome!
Our tasting room and picnic patio are OPEN (weather permitting for the patio)!  Some things have stayed the same and some things have changed.
Current Tasting Room Hours of Operation
Thursday 3 PM – 6 PM
Friday 3 PM – 6 PM
Saturday 12 PM – 4 PM
Available Seating
The biggest change is that due to the size of our tasting room and to comply with the 6′ social distancing guidelines, we can't accommodate any seating inside the tasting room.
The picnic patio will be open with an occupancy of 10 people. Must be 19+ years to be on patio.
We look forward to seeing you!
COVID-19 WorkSafe Plan
Tasting Room & Patio Hours of Operation
Wednesday 12 PM – 6 PM
Thursday 12 PM – 6 PM
Friday 12 PM – 6 PM
Saturday 12 PM – 5 PM
Please note that because of the limited size of our tasting room, there is no inside seating as we need to comply to the 6' social distancing guidelines.  Must be 19+ years of age to sit on the patio
Staff will need to provide information on our products, pour samples in some proximity to visitors, prepare orders for sale, and take payment.

Note that we have installed a Plexi-glass divider on the bar providing a barrier between the tasting room staff and customers.

Surfaces that are typically touched include cans, compostable glasses, tasting counter, sample cups, cash register, credit card terminals, bathroom facilities, entry door, patio tables and chairs, fridge door.

Cleaning & Hygiene
Staff must wash their hands with soap and warm water for a minimum of 20 seconds at the start of each shift, after visiting the bathroom, and before and after each break. Tasting room staff must wash their hands in between tasting customers. There are 3 sinks available for tasting room staff to clean their hands – 1 in the tasting room, 1 in the lab, and one in the bathroom.

No staff members have shown any signs of illness for months, nor been in direct contact with any known carriers of the disease.

Door handles, bathroom, tables, chairs – cleaned with a cleaning solution and then wiped with sanitizer at the start of shift, and after each use by a customer. Counters and charge terminals will be wiped between clients. Tap purchases will be encouraged.

At this time, we will not be accepting cash; credit cards, gift certificates and Debit are accepted

Flight board glassware for patrons will be sanitized in our commercial high temperature dishwasher.

Patrons will not handle any products unless purchased. Shirts, hats and other items for sale will be kept behind the counter aside from a few display only items.

Hand sanitizer will be made available to patrons at the entry and also for staff.

Entry door will be kept open when possible.

Single use sample cups will be provided whole compostable cups will be provided for packaged products.

Garbage and recycling bins are located on the patio and guests are asked to dispose of their own used glassware and cans.
Physical Distancing
One way foot traffic to and from all tasting areas on busy days. Arrows will be on the ground with tape to show customers where to walk.

Appropriate reminders to visitors to remain 2 meters from other groups.

New tasting room procedure: only 1 person or 1 party in the tasting room at a time.

Customers are to wait at the designated ordering station where the tasting room staff will compile the order or sample.

Maximum of 6 visitors in any one group.

Events have been cancelled.

Customers are asked to not move the patio tables.
Policies
Staff will follow all isolation guidelines if they feel ill (14 days as directed by the Province). Staff should report to First Aid even with mild symptoms if they begin to feel ill at work. Staff are encouraged to call 8-1-1, 9-1-1, or use the self assessment tool if they feel ill before a shift. Sick workers are asked to wash or sanitize their hands, given a mask, and are isolated. They will go straight home or call 8-1-1 for further guidance. If they are severely ill they will call 9-1-1. Any surface that the ill worker has come in to contact with will be cleaned and disinfected.

Visitors who appear ill (coughing, sneezing) will be asked to leave.

Visitors that come in groups larger than 6 and do not want to be separated will be asked to leave.

Visitors who do not want to comply with our guidelines will be asked to leave.

Visitors are no longer encouraged to self serve from the fridge. A staff member will retrieve product to fill orders.

Staff are encouraged to bring up areas of concern to our owners Harley and Tracy, who will review those concerns and make amendments to our safety plan as needed.

We have assessed our brewery at a first level of protection.

Staff are not required to wear PPE, however we have some available for them to wear if they feel more comfortable with it on.

If First Aid needs to be administered, the First Aid attendant will wear a mask and gloves and wash their hands before attending to the injured person(s) and will also wash their hands afterwards. Unless restricted, the injured person(s) will also wear a mask while receiving First Aid.
Communication Plans
Signs will be posted to let patrons know that group size is limited to 6, and number of groups is limited to 1 inside the tasting room. Signs will remind them of physical distancing, to limit touch points, & sanitize hands.  A sign will advise that visitors who appear ill will not be served.  A hand washing instruction sign will be displayed in the bathrooms.

Workers have been told about our sick policy and have been given a hard copy to take home with them.
MONITORING
For the first two weeks, either Harley or Tracy will talk with all staff members every two days to see if they have any concerns or suggested changes to the plans. After the first two weeks, Harley or Tracy will talk to every staff member once a week to ensure that if they have any concerns or if they have any changes to the plans that are needed or if there have any new risks or if there are any areas they have risk to or any health and safety concerns that we will make changes to our policies and procedures as necessary.

All amended copies to this plan will be saved.
ASSESS AND ADDRESS RISK FROM RESUMING OPERATIONS
As we will be restarting our business, we will have a training plan for all staff, both returning and existing. All staff will be required to review this plan. Staff who refuse to adopt safety procedures will be asked to leave.
LongwoodStock 2020 Postponed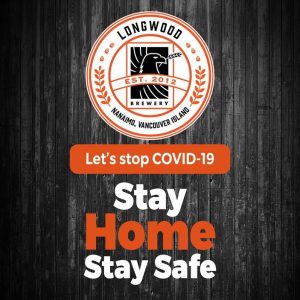 Music & craft beer fans,
In recognizing BC's public health projections that large gatherings should be avoided for the foreseeable future, we are postponing this year's edition of Longwoodstock. We remain dedicated to producing and hosting this festival when it is safe to do so. We appreciate all of your support and look forward to putting all of our energy into planning an amazing festival—hopefully in 2021. In the meantime, please consider ways in which you can support musicians, arts organizations, craft breweries, and local food providers during this time—as well as front-line and essential workers in your community.
Stay safe & stay healthy!
The Longwood Line Up
UPCOMING SEASONAL RELEASES
CURRENT SEASONAL RELEASES
authentically brewed beer for any taste.
find your favourite today.
TASTING ROOM * GROWLER BAR * PICNIC PATIO
TASTING ROOM * GROWLER BAR * PICNIC PATIO
Come in for a visit and check out the newly renovated Tasting Room!
We put the GRRRRR in growler!
It doesn't matter if you are a first-timer or one of our regulars, feel free to pull up a stool and sample the Longwood Line Up. Easily accessible, we are located just off the Nanaimo Parkway. Our friendly and amazing staff will impress you with their vast knowledge about Longwood's recipes and will definitely help you find your perfect beer.
"Grown and brewed on Vancouver Island" – Longwood is proud to support local farmers by using hops, barley and other ingredients grown all over the Island. In fact, 50% of of our barley comes from Central Vancouver Island and the majority of our hops come from within 20km of the brewery.
This is a place for fun, beer, and a little bit of business.
We are an "Obsessively Local Brewery"!
P.S. Ask to meet the one and only brewery dog…."Milo"!
Wanna Tap Us?(WE KNOW IT'S HARD TO RESIST)
We would be tickled pink to be the newest product on your shelf or on your bar.
Please contact the brewery at 250-591-2739 for more information.
There are currently no upcoming events