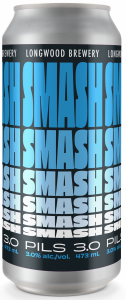 Get to know Smash Pils 3.0…a perfect summer time beer!
Happiness is a cold drink on a hot day and nothing's cooler than Smash Pils 3.0 – the ultimate Island-life chill pil. Starts clean, stays refreshing all day long, finishes with the sweet-orange citrusy flavour of imported Mandarina Bavaria hops.
Single Malt (German Pilsen Malt) & Single Hop (Mandarina Bavaria) goodness!
Alc/Vol: 3.0
IBU: 14
Vegan